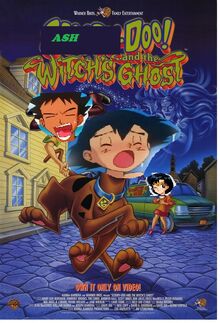 1701Movies' movie spoof of Scooby Doo and the Witch's Ghost (1999). It will appear on YouTube in the near future.
Cast:
Scooby Doo - Ash Ketchum (Pokemon)
Shaggy Rogers - Brock (Pokemon)
Fred Jones - Ron Stoppable (Kim Possible)
Daphne Blake - Kim Possible
Velma Dinkley - Amy/Sailor Mercury (Sailor Moon)
Ben Ravencroft - Drake (The Pebble and the Penguin)
Mayor Corey - ???
Jack - ???
McKnight - ???
Thorn - ???
Dusk - ???
Luna - ???
Sarah Ravencroft - ???
Trivia:
This is 1701Movies' second Scooby Doo spoof. This will be after the first season of Dinosaur King (1701Movies Style).
Both Pokemon: The First Movie, and Scooby Doo and the Witch's Ghost were released in 1999.
Both Drake and Ben Ravencroft were voiced by Tim Curry.
This movie spoof is dedicated to Mary Kay Bergman (1961-1999) William Hanna (1910-2001) and Joseph Barbera (1911-2006)
Gallery:
Community content is available under
CC-BY-SA
unless otherwise noted.