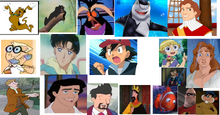 these are roles of ash
Cast:
Bagheera - The Jungle Book 1&2
Prince Adam - Beauty and the Tabby Cat
Scooby Doo
Darien
John Rolfe
Rocko - The Pebble and the Pokemon Breeder
Lenny - Pokemon Trainer Tale
Dexter - Tori's Lab
Mr. Peabody - Mr. Ash and Tori
Harold Shrinks - Tori Shrinks
Brave Little Toaster
Fix
Nigel ????
Gallery:
Community content is available under
CC-BY-SA
unless otherwise noted.