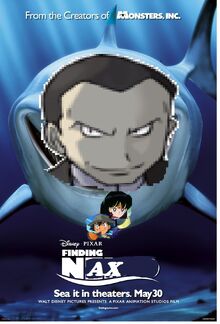 1701Movies' movie-spoof of Finding Nemo (2003). It will appear on YouTube in the near future in honor of Finding Dory (2016).
Cast:
Marlin - Ash Ketchum (Pokemon)
Nemo - Max (Pokemon)
Dory - Raye/Sailor Mars (Sailor Moon)
Gill - Ron Stoppable (Kim Possible)
Bloat - Brock (Pokemon)
Peach - Misty (Pokemon)
Bubbles - Tracey Sketchit (Pokemon)
Gurgle - Cilan (Pokemon)
Deb/Flo - May and Dawn (Pokemon)
Jacques - Clemont (Pokemon)
Nigel - Chirp Sing (Chip 'n Dale Rescue Rangers)
School of Moonfish - Themselves
Crush - Dexter's Dad (Dexter's Laboratory)
Squirt - Dexter (Dexter's Laboratory)
Mr. Ray - Kronk (The Emperor's New Groove)
Bruce - Giovanni (Pokemon)
Anchor - James (Pokemon)
Chum - Meowth (Pokemon)
Tad - Mowgli (The Jungle Book)
Pearl - Molly Hale (Pokemon 3: the Movie)
Sheldon - Max Taylor (Pokemon)
Dr. Philip Sherman - Himself
Darla Sherman - Herself
Coral - Serena (Pokemon)
Barracuda - Marshmallow (Frozen)
Bill - Roger Radcliffe (101 Dalmatians)
Ted - Spencer Hale (Pokemon 3: the Movie)
Bob - Spike Taylor (Pokemon)
Trivia:
This is an NTSC spoof.
Piglet's Big Movie, 101 Dalmatians 2: Patch's London Adventure, Pokemon Heroes, and Finding Nemo were released in 2003.
Gallery: