Laura Post is an American voice actress and voice director known for her works in anime dubbed in English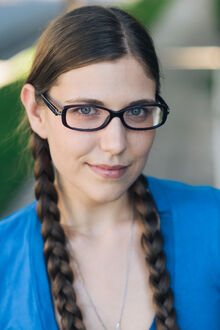 by Bang Zoom! Entertainment and Studiopolis like portraying Aria Lieze in Magical Girl Lyrical Nanoha A's, Ragyo Kiryuin in Kill la Kill, Rosalia in Sword Art Online,[3][4][5] Eri Watabe in Lagrange: The Flower of Rin-ne and Bosbos in Redline. She also has portrayed characters in video games like Ahri in League of Legends,[6] Queen Azshara in World of Warcraft: Cataclysm, Valentine in Skullgirls, Harley Quinn in Batman: The Enemy Within, and Arfoire in Hyperdimension Neptunia.
Voice:
Cassidy (VIZ) - Sailor Serena (1701Movies Style)
Gallery:
Community content is available under
CC-BY-SA
unless otherwise noted.