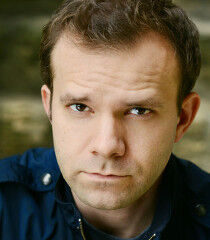 Liam O'Brien (born May 28, 1976) is an American voice actor and voice director in the Los Angeles area. He has been involved in many English-language adaptations of Japanese anime, and is also a regular in numerous video games and cartoons. His major anime roles include Gaara in Naruto, Captain Jushiro Ukitake in Bleach, Lloyd in Code Geass, and Kenzo Tenma in Monster. In cartoons, he voices in shows such as Star Wars Rebels, Transformers: Robots in Disguise, Avengers Assemble, Wolverine and the X-Men, and Hulk and the Agents of S.M.A.S.H.. In video games, he voiced Gollum in Middle-Earth: Shadow of Mordor, Caius Ballad in Final Fantasy XIII, War in Darksiders, and Asura in Asura's Wrath. He has directed on Naruto, The Last of Us, Evolve, Resident Evil 5, and Resident Evil 6.
Voices:
Gallery:
Community content is available under
CC-BY-SA
unless otherwise noted.