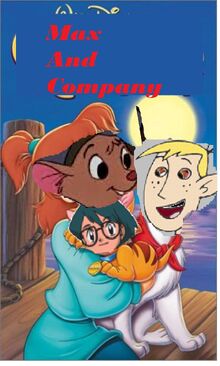 1701Movies' movie-spoof of Oliver and Company (1988). It will appear on YouTube in the near future.
Cast:
Oliver - Max (Pokemon)
Dodger - Ron Stoppable (Kim Possible)
Fagin - Scooby Doo
Jenny Foxworth - Olivia Flaversham (The Great Mouse Detective)
Sykes - Carface (All Dogs Go to Heaven)
Tito - Tierno (Pokemon)
Georgette - Serena (Pokemon)
Einstein - Brock (Pokemon)
Francis - Ash Ketchum (Pokemon)
Rita - Kim Possible
Roscoe and DeSoto - James and Butch (Pokemon)
Winston - Papa Mousekewitz (An American Tail)
Old Louie - Fuzzy Lumpkins (The Powerpuff Girls)
Quotes:
Butch: Hey, James, look what I found.
James: Forget it, Butch. We gotta go.
Butch: I like boys. I like to eat 'em.
Trivia:
Georgette played Serena in Pokemon XY (DinosaurKingRockz Animal Style), and Serena played Georgette in this spoof.
This is an NTSC spoof.
Gallery: