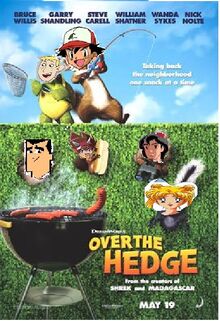 1701Movies' movie-spoof of Over the Hedge (2006). It will appear on YouTube in the near future to celebrate the 10th Anniversary.
Cast:
RJ - Ash Ketchum (Pokemon)
Verne - Ron Stoppable (Kim Possible)
Hammy - Max Taylor (Dinosaur King)
Stella - Serena/Sailor Moon
Lou - Aladdin
Penny - Jasmine (Aladdin)
Spike, Quillo, and Bucky - Mowgli, Shanti, and Ranjan (The Jungle Book)
Ozzie - Professor Utonium (The Powerpuff Girls)
Heather - Blossom (The Powerpuff Girls)
Tiger - Darien/Tuxedo Mask (Sailor Moon)
Vincent - Dr. Drakken (Kim Possible)
Gladys Sharp - Herself
Dwayne LaFontant the Exterminator - Himself
Nugent - Dynomutt (Dynomutt Dog Wonder)
Trivia:
This spoof will be dedicated to Garry Shandling (1949-2016).
Gallery: