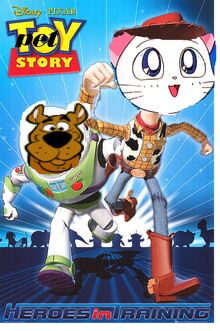 1701Movies' movie-spoof of Toy Story (1995). It will appear on YouTube in the near future.
Cast:
Sheriff Woody - Artemis (Sailor Moon)
Buzz Lightyear - Scooby Doo
Mr. Potato Head - Goofy (Disney)
Slinky Dog - Littlefoot (The Land Before Time)
Rex - Himself
Hamm - Jeremy (The Secret of NIMH)
Bo Peep - Luna (Sailor Moon)
Sarge - Iago (Aladdin)
Soldiers - Various Birds
Andy Davis - Tori (Tai Chi Chasers)
Mrs. Davis - Serena (Pokemon)
Molly Davis - ????
Sid Phillips - Mandark (Dexter's Lab)
Hannah Phillips - Dee Dee
Scud - Sabor (Tarzan)
Etch - Flik (Bugs a Life)
Lenny - Squeaky Mouse
Mr. Shark -
Quotes:
Artemis: Listen LightSnack, you stay away from Tori. He's mine, and no one is taking him away from me.
Scooby Doo: What are you talking about? Where's that bonding strip?
Artemis:And another thing-- Stop with this spaceman thing! It's getting on my nerves!
Are you saying you want a lodge of complaint with Star Command?!
Oh, okay. Ooh, well, so you wanna do it the hard way, huh?
Don't even think about it, Cowboy.
Oh, yeah, tough guy? (Pushes his Helmet Open)
(Scooby Gasps, Choking)
Scooby Doo:The air isn't toxic. How dare you open a spaceman's helmet on an uncharted planet. My eyeballs could've been sucked from their sockets.
You actually think you the Scooby Doo? Oh, all this time I thought it was an act. Hey, guys, look. It's the real Scooby Doo.
You're mocking me, aren't you?
Oh, no, no. No-no-no-no-no. Buzz, look! An Alien!
Scooby Doo:Where?
(Scooby Doo Laughs)
Artemis: Shut Up Shut Up you Idiot!
Dee Dee , Jeannie's all better now.
Dee Dee Screams: Mom! Mom!
(off screen): She's lying! (on-screen) Whatever she says it's not true!
(off Screen) Where's the Rebel Base Talk! (on Screen) I Can see your will is strong We have ways of making Talk (Magnifying glass on his Head) Where are your rebel friends now? (Sinister Laugh)
Artemis: From now on, you must take good care of your pets. Because if you don't, we'll find out, Mandark. We pets can see everything. So play nice.
(Mandark Screams And Runs inside)
Trivia:
Sid Phillips Played Mandark In Ooglyeye's spoof in ????
Gallery: