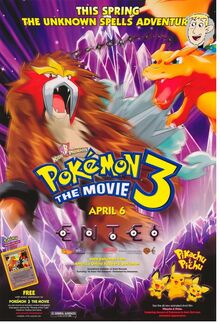 1701Movies' movie-spoof of Pokemon 3: The Movie (2001). It will appear on YouTube in the near future.
Cast:
Ash Ketchum - Ron Stoppable (Kim Possible)
Misty - Jasmine (Aladdin)
Brock - Professor Utonium (The Powerpuff Girls)
Pikachu - Himself
Togepi - Herself
Jessie - Queen Beryl (Sailor Moon)
James - Aldrin Klordane (Chip 'n Dale Rescue Rangers)
Meowth - Himself
Wobbuffet - Himself
Delia Ketchum - Dexter's Mom (Dexter's Laboratory)
Professor Oak - King Triton (The Little Mermaid)
Tracey Sketchit - Wade Load (Kim Possible)
Molly Hale - Herself
Spencer Hale - Himself
Lisa - ???
Entei - Himself
Quotes:
Ron Stoppable: She's gone. I couldn't save her.
Trivia:
This is an NTSC spoof.
The Little Mermaid 2: Return to the Sea was released on home video in 2000, the same year Pokemon 3: The Movie was released in theaters in Japan.
Gallery: