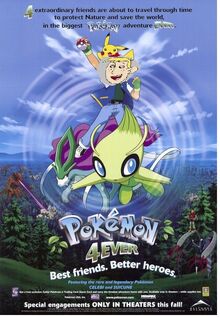 1701Movies' movie-spoof of Pokemon 4Ever (2002). It will appear on YouTube in the near future.
Cast:
Ash Ketchum - Ron Stoppable (Kim Possible)
Misty - Jasmine (Aladdin)
Brock - Professor Utonium (The Powerpuff Girls)
Pikachu - Himself
Togepi - Herself
Jessie - Queen Beryl (Sailor Moon)
James - Aldrin Klordane (Chip 'n Dale Rescue Rangers)
Meowth - Himself
Professor Oak - King Triton (The Little Mermaid)
Tracey Sketchit - Wade Load (Kim Possible)
Towa - ???
Diana - ???
Sam - Cody (The Rescuers Down Under)
Iron-Masked Marauder - Percival McLeach (The Rescuers Down Under)
Celebi - Himself
Trivia:
Gallery:
Community content is available under
CC-BY-SA
unless otherwise noted.