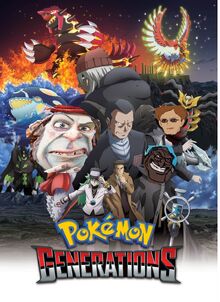 1701Movies' TV spoof of Pokemon Generations (2016). It will appear on YouTube in the near future.
Cast:
Red - Tai (Digimon)
Blue - Matt (Digimon)
Giovanni - Himself
Silver - Himself
Cheryl - ???
Ghetsis - Sykes (Oliver and Company)
Iris - Nani (Lilo & Stitch)
Clay - Mr. Steve Barkin (Kim Possible)
Skyla - Rukia Kuchiki (Bleach)
Episodes:
Gallery:
Community content is available under
CC-BY-SA
unless otherwise noted.