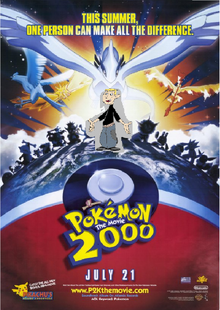 1701Movies' movie-spoof of Pokemon: The Movie 2000 (2000). It will appear on YouTube in the near future.
Cast:
Ash Ketchum - Ron Stoppable (Kim Possible)
Misty - Jasmine (Aladdin)
Tracey Sketchit - Wade Load (Kim Possible)
Pikachu - Himself
Togepi - Herself
Jessie - Queen Beryl (Sailor Moon)
James - Aldrin Klordane (Chip 'n Dale Rescue Rangers)
Meowth - Himself
Delia Ketchum - Dexter's Mom (Dexter's Laboratory)
Professor Oak - King Triton (The Little Mermaid)
Professor Ivy - Miss Bellum (The Powerpuff Girls)
Maren - Jane Darling (Peter Pan 2: Return to Neverland)
Carol - Shanti (The Jungle Book)
Melody - Melody (The Little Mermaid 2: Return to the Sea)
Lawrence III - Ben Ravencroft (Scooby Doo and the Witch's Ghost)
Lugia - Himself
Slowking - Himself
Tobias - Preston Whitmore (Atlantis: The Lost Empire)
Quotes:
Queen Beryl: If that kid thinks we're here for trouble...
Aldrin Klordane: ...we're certainly going to burst his bubble.
Queen Beryl: Instead of causing tribulation...
Aldrin Klordane: ...we've undergone a transformation.
Queen Beryl: Though it's way outside our usual range...
Aldrin Klordane: ...we're going to do something nice for a change.
Queen Beryl: Queen Beryl!
Aldrin Klordane: Aldrin Klordane!
Queen Beryl: Up till now Team Rocket's been quite unscrupulous.
Aldrin Klordane: Being good good guys for once would be super-dupulous.
Meowth: That's right!
Trivia:
Seasons 2 and 3 of The Powerpuff Girls, The Little Mermaid 2: Return to the Sea, and Pokemon: The Movie 2000were released in 2000.
This is an NTSC spoof.
Gallery: