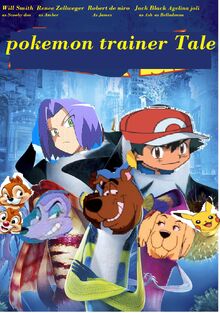 1701Movies' movie-spoof of Shark Tale (2004). It will appear on YouTube in the near future.
Cast:
Oscar - Scooby Doo
Lenny - Ash Ketchum (Pokemon)
Angie - Amber (Scooby Doo and the Alien Invaders)
Lola - Belladonna (An All Dogs Christmas Carol)
Don Lino - James (Pokemon)
Sykes - Pikachu (Pokemon)
Ernie and Bernie - Chip and Dale (Chip 'n Dale Rescue Rangers)
Frankie - Butch (Pokemon)
Luca - Barry (Pokemon)
Trivia: Edit
This is an NTSC spoof with Katie Couric.
Gallery: