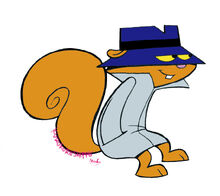 Secret Squirrel, voiced by Mel Blanc, served as a secret agent (his designation was "Agent 000"), taking orders from his superior, Double-Q. Secret was assisted in his adventures by fez-wearing sidekick, Morocco Mole. The pair fought crime and evil agents using cunning and a variety of spy gadgets, including a machine gun cane, a collection of guns kept inside Secret's coat, and a variety of devices concealed in his hat (which he almost never removed).
Voices:
Portrayals:
Gallery:
Community content is available under
CC-BY-SA
unless otherwise noted.