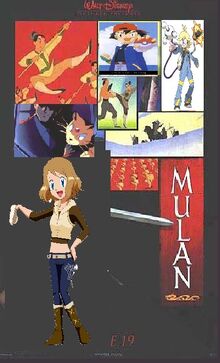 1701Movies spoof of Walt Disney's classic, Mulan (1998). It's not the Serena form Sailor Moon but form Pokemon XY.
Cast: 
Mulan - Serena (Pokemon X and Y)
Ping - Clemont (Pokemon)
Shang - Ash Ketchum (Pokemon)
Mushu - Pikachu (Pokemon)
Cri-Kee -itself
Little Brother - Percy (Pocahontas)
Khan - Himself
Shan Yu - Giovanni (Pokemon)
Falcon - Persian (Pokemon)
Yao - Tracey Sketchit (Pokemon)
Ling - Brock (Pokemon)
Chien Po - Himself
Fa Zhou - Norman (Pokemon)
Fa Li - Caroline (Pokemon)
Grandmother Fa - Ann Possible (Kim Possible)
Chi-Fu - Dr Drakken (Kim Possible)
General Li - Professor Oak (Pokemon)
Matchmaker - Chicha (The Emperor's New Groove)
Emperor - Sultan (Aladdin)
Great Wall Guard - Aladdin
Trivia: 
This is Giovanni's second role in 1701Movies.
Serena and Mulan both cut their hair.
This is the second movie-spoof of 1701Movies.
Shang and Giovanni both the voice of Daniel Picard.
This spoof will be dedicated to Miguel Ferrer (1955-2017).