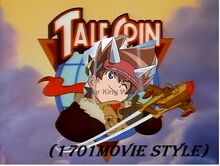 1701Movies' TV spoof of TaleSpin (1990-1991). It will appear on YouTube in the near future.
Cast:
Baloo - Max Taylor (Dinosaur King)
Rebecca Cunningham - Zoe Drake (Dinosaur King)
Kit Cloudkicker - Marucho (Bakugan Battle Brawlers)
Molly Cunningham - Yachiru Kusajishi (Bleach)
Wildcat - Tom (Tom and Jerry)
Louie - Pikachu (Pokemon)
Shere Khan - Giovanni (Pokemon)
Don Karnage - Merlock (DuckTales the Movie: Treasure of the Lost Lamp)
Mad Dog - Dijon (DuckTales the Movie: Treasure of the Lost Lamp)
Dumptruck - Flintheart Glomgold (DuckTales)
Sarge Dunder - Thunderclap (The Good Dinosaur)
The Rest of Air Pirates - Themselves
Covington - ???
The High Marshall - Cat R. Waul (An American Tail 2: Fievel Goes West)
Buzz - Zazu (The Lion King)
Colonel Spigot - Fat Cat (Chip 'n Dale Rescue Rangers)
Episodes:
From Here to Machinery
Trivia:
This series will be dedicated to Ed Gilbert (1931-1999) and Tony Jay (1933-2006).
Gallery:
Community content is available under
CC-BY-SA
unless otherwise noted.