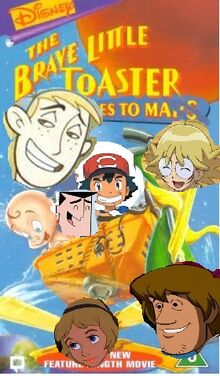 1701Movies' movie-spoof of The Brave Little Toaster Goes to Mars (1998). It will appear on YouTube in the near future to celebrate the 20th Anniversary.
Cast:
Toaster - Ash Ketchum (Pokemon)
Blanky - Tori (Tai Chi Chasers)
Lampy - Ron Stoppable (Kim Possible)
Kirby - Shaggy Rogers (Scooby Doo)
Radio - Professor Utonium (The Powerpuff Girls)
Ratso - Ichigo Kurosaki (Bleach)
Adult Rob - Himself
Chris - Herself
Robbie - Himself
Tinselina - ??
Microwave - ???
Fan - ???
Trivia:
Gallery:
Community content is available under
CC-BY-SA
unless otherwise noted.