Jurassic World: Dominion Dominates Fandom Wikis - The Loop
Play Sound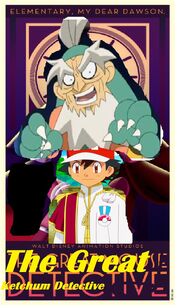 1701Movies' movie-spoof of The Great Mouse Detective (1986). It will appear on YouTube in the near future to celebrate the 30th Anniversary of Disney's 26th film.
Cast: 
Basil of Baker Street - Ash Ketchum (Pokemon)
Dr. Dawson - Brock (Pokemon)
Olivia Flaversham - Kim Possible
Hiram Flaversham - James Possible (Kim Possible)
Toby - Pikachu (Pokemon)
Mrs. Judson - Misty (Pokemon)
Professor Ratigan - Dr. Z (Dinosaur King)
Fidget - Seth (Dinosaur King)
Bartholomew - Ed (Dinosaur King)
Felicia - Terry (Dinosaur King)
The Bar Maid - Herself
Miss Kitty - Serena (Pokemon XY)
Miss Kitty's Sisters - May and Iris (Pokemon)
Queen Mousetoria - Velma Dinkley (Scooby Doo)
Ratigan's Henchmen - Various Villains
Juggling Octopus - Himself
Frog and Salamander - Themselves
Piano Mouse - Himself
Bartender - Himself
Thugs, Sailors, and Bums - Themselves
The Queen's Audience - Themselves
Disguised Criminal - Giovanni (Pokemon)
Client from Hamstead - Anna (Frozen)
Trivia:
This spoof will be after Ash Doo on Zombie Island.
Dedicated to the memory of Alan Young and Vincent Price.
This is the first movie-spoof to use the Pokemon intro of Season 1.