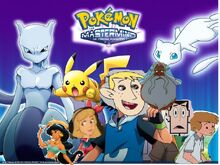 1701Movies' movie-spoof of The Mastermind of Mirage Pokemon (2006). It will appear on YouTube in the near future to celebrate the 10th Anniversary.
Cast:
Ash Ketchum - Ron Stoppable (Kim Possible)
May - Princess Eilonwy (The Black Cauldron)
Max - Christopher Robin (Winnie the Pooh)
Brock - Professor Utonium (The Powerpuff Girls)
Misty - Jasmine (Aladdin)
Pikachu - Himself
Jessie - Queen Beryl (Sailor Moon)
James - Aldrin Klordane (Chip 'n Dale Rescue Rangers)
Meowth - Himself
Wobbuffet - Himslef
Professor Oak - King Triton (The Little Mermaid)
Dr. Yung - Robert C (Big Hero 6)
Mirage Master - Yokai (Big Hero 6)
Officer Jenny - Amy/Sailor Mercury (Sailor Moon)
Nurse Joy - Lita/Sailor Jupiter (Sailor Moon)
Trivia:
This spoof will use the original dub with Kayzie Rogers, not the redub with Sarah Natochenny.
Gallery: