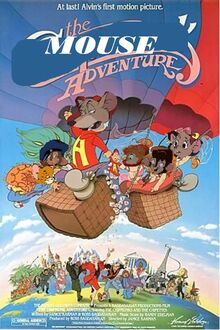 1701Movies' movie-spoof of The Chipmunk Adventure (1987). It will appear on YouTube in the near future to celebrate the 30th Anniversary.
Cast:
Alvin Seville - Basil of Baker Street (The Great Mouse Detective)
Simon Seville - Jerry Mouse (Tom and Jerry)
Theodore Seville - Fievel Mousekewitz (An American Tail)
Brittany - Mrs.Brisby (The Secret of NIMH)
Jeanette - Tanya Mousekewitz (An American Tail 2:Fievel Goes West)
Eleanor - Olivia Flaversham (The Great Mouse Detective)
Dave Seville - Himself
Miss Miller - Herself
Claudia Vorstein - Herself
Klaus Vorstein - Himself
Sophie - Herself
Arabian Prince - Aladdin
Inspector Jamie - Spike Taylor (Dinosaur King)
Quotes:
Aladdin: I do not take orders from Spike. I am doing him a favor. And as payment, I keep the girls.
Mrs. Brisby: Oh, dream on, Tiny Tim.
Mrs. Brisby: I'm not exactly thrilled to be here myself, Tanya! We've got to find our dolls and get outta here!
Basil: But, Dave, they promised us $100,000!
Dave Seville: Not now, Basil.
Basil: But they've got $5,00,000 of diamonds. Don't we get anything?
Dave Seville: Basil--
Basil: But we just cracked a huge smuggling ring.
Miss Miller: Shut up, Basil!
Basil: Okay, okay. We'll give you half.
Dave Seville: BASILLLLLLLLLL!
Trivia:
The Chipmunk Adventure was set in production in 1986, the same year The Great Mouse Detective was released in theaters.
Gallery: