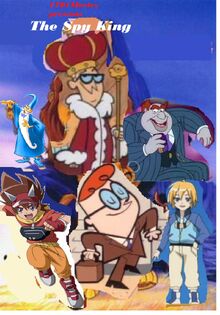 1701 Spoof
Cast:
Baby Simba - ???
Young Simba- Dexter
Adult Simba - Ron Stoppable (Kim Possible)
Young Nala -Margo Gru
Adult Nala - Kim Possible
Timon - Max Taylor
Pumbaa - Rex Owen
Mufasa - Dexter's Dad
Sarabi - Dexter's Mom
Rafiki - Merlin (The Sword in the Stone)
Scar - Aldrin Klordane
Shenzi - Domino
Banzai - Giovanni
Ed - Persian (Pokemon)
Sarafina - Ann Possible
Trailer:
The Spy King Trailer/Transcript
Trivia:
This spoof will be dedicated to Madge Sinclair (1938-1995), and Robert Guillaume (1927-2017).
Gallery: