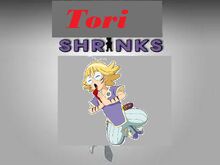 1701Movies' TV-spoof of George Shrinks (2000). It will appear on YouTube in the near future.
Cast:
George Shrinks - Tori (Tai Chi Chasers)
Becky Lopez - Rini/Sailor Mini Moon (Sailor Moon)
Junior Shrinks - Max (Pokemon)
Perdita Shrinks - Serena (Pokemon)
Harold Shrinks - Ash Ketchum (Pokemon)
Sparkle Tangerine - Jessie (Pokemon)
Aunt Eunice - Misty (Pokemon)
Mr. Schnultz - Ichigo Kurosaki (Bleach)
Trivia:
This spoof will be in loving memory of Paul O'Sullivan (1964-2012).
And Used all Anime
Gallery:
Community content is available under
CC-BY-SA
unless otherwise noted.