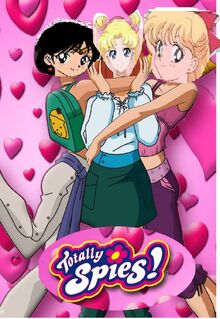 1701Movies' TV-spoof of Totally Spies (2002-2013). It will appear on YouTube in the near future.
Cast:
Sam - Serena/Sailor Moon
Alex - Raye/Sailor Mars (Sailor Moon)
Clover - Mina/Sailor Venus (Sailor Moon)
Jerry - Dave Seville (Alvin and the Chipmunks)
Seasons:
Movie:
Trivia:
Both Alex and Raye/Sailor Mars were voiced by Katie Griffin.
Gallery: