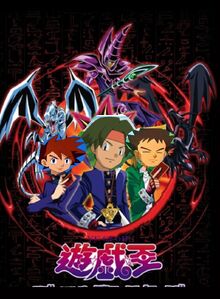 1701Movies' TV spoof of Yu-Gi-Oh! Duel Monsters (2001-2006). It will appear on YouTube in the near future.
Cast:
Yugi Muto - Rai (Tai Chi Chasers)
Yami Yugi - Tracey Sketchit (Pokemon)
Seto Kaiba - Gary Oak (Pokemon)
Joey Wheeler - Brock (Pokemon)
Tristan Taylor - Ash Ketchum (Pokemon)
Tea Gardner - Sen (Tai Chi Chasers)
Mokuba - Ritchie (Pokemon)
Mai Valentine - Korrina (Pokemon) or (Sailor Moon)
Maximillion Pegasus - Zirconia (Sailor Moon)
Ryo Bakura - Himself
Yami Bakura - Himself
Marik - Finn (Tai Chi Chaser)
Isihizu - Sailor Pluto (Sailor Moon)
Odion - Donha (Tai Chi Chaser)
Yami Marik - Spectre (Dinosaur King)
Gozaburo Kaiba - Giovanni (Pokemon)
Noah Kaiba - Butch (Pokemon)
Trivia:
This spoof
Both Ritchie and Mokuba were voiced by Tara Jayne.
In Japanese, Ash Ketchum and Bakura were voiced by Rica Matsumoto.
Gallery: